THE LIFE AND WORKS OF ALFONS MUCHA
Alfons Mucha (1860–1939)
The South Moravian native is renowned as a famous painter and an icon that inspires generations of artists worldwide.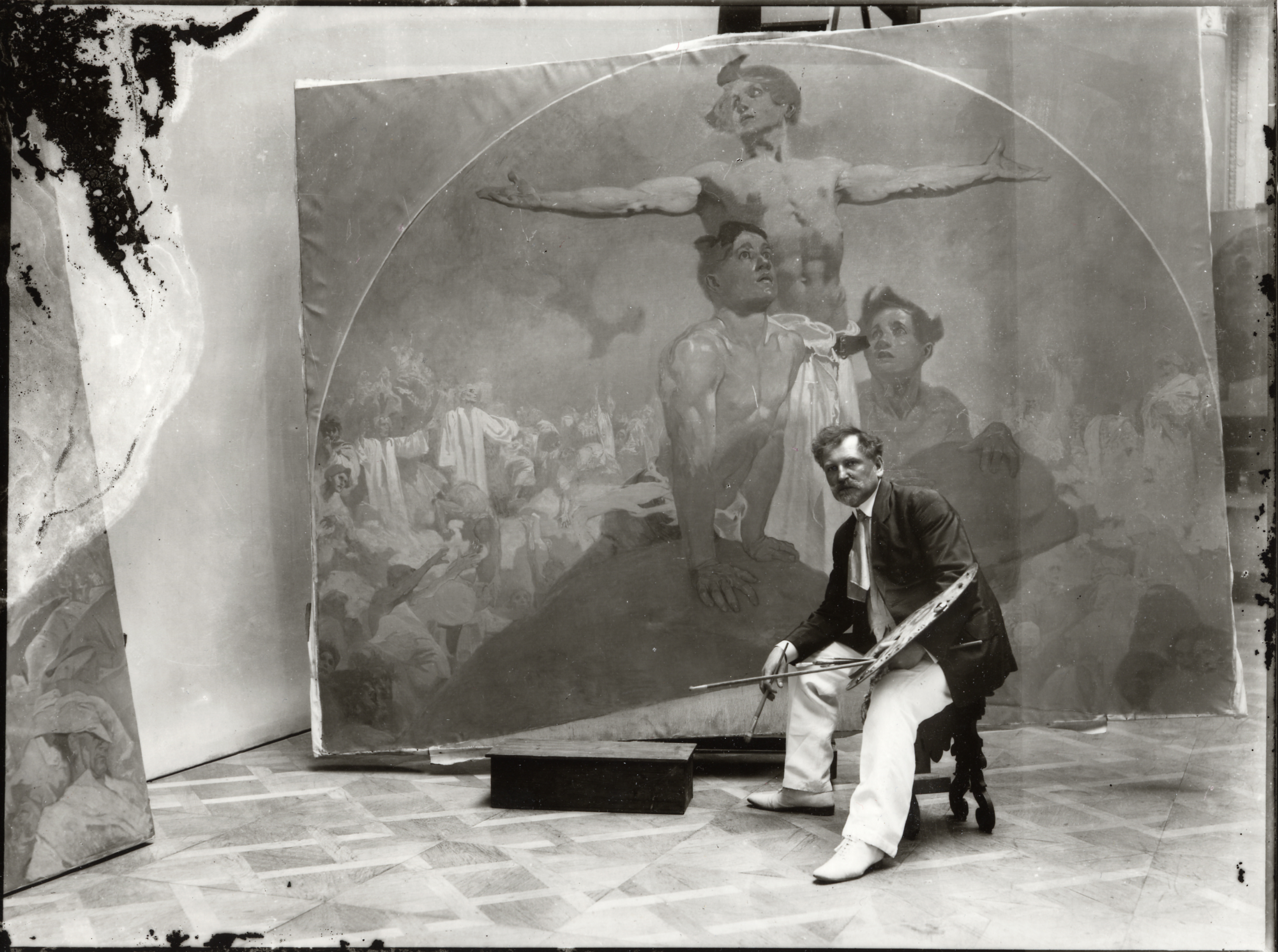 A story full of fateful twists and encounters
He was born in Ivančice. To this day, the pew of the local church bears his autograph. He was expelled from his studies at grammar school in Brno and had to start working as an assistant court clerk. He unsuccessfully tried to apply for the Academy of Fine Arts in Prague. Instead, he went to Vienna, where he worked in a theater design studio and attended art courses. The aftermath of the Ringtheater fire forced him to return to Moravia. He settled in Mikulov, where he made a living by occasionally taking art commissions. Count Khuen-Belassi noticed Mucha's talent and hired the young artist to decorate the dining room of the Emmahof castle in Hrušovany, and even acted as a benefactor, sponsoring Mucha's art studies in Munich and Paris.
 In 1894, during the Christmas holidays, Mucha helped out the famous actress Sarah Bernhardt, who urgently needed a poster for her new play Gismonda. This assistance turned out to be a pivotal moment in his life. Alfons Mucha became a star overnight. He designed jewelry, hairstyles, and posters for Bernhardt. Orders kept pouring in.
In 1903, he met his future wife, Marie, who attended his painting classes. After the wedding, they lived in America. After his return to Bohemia, he began working on the Slav Epic.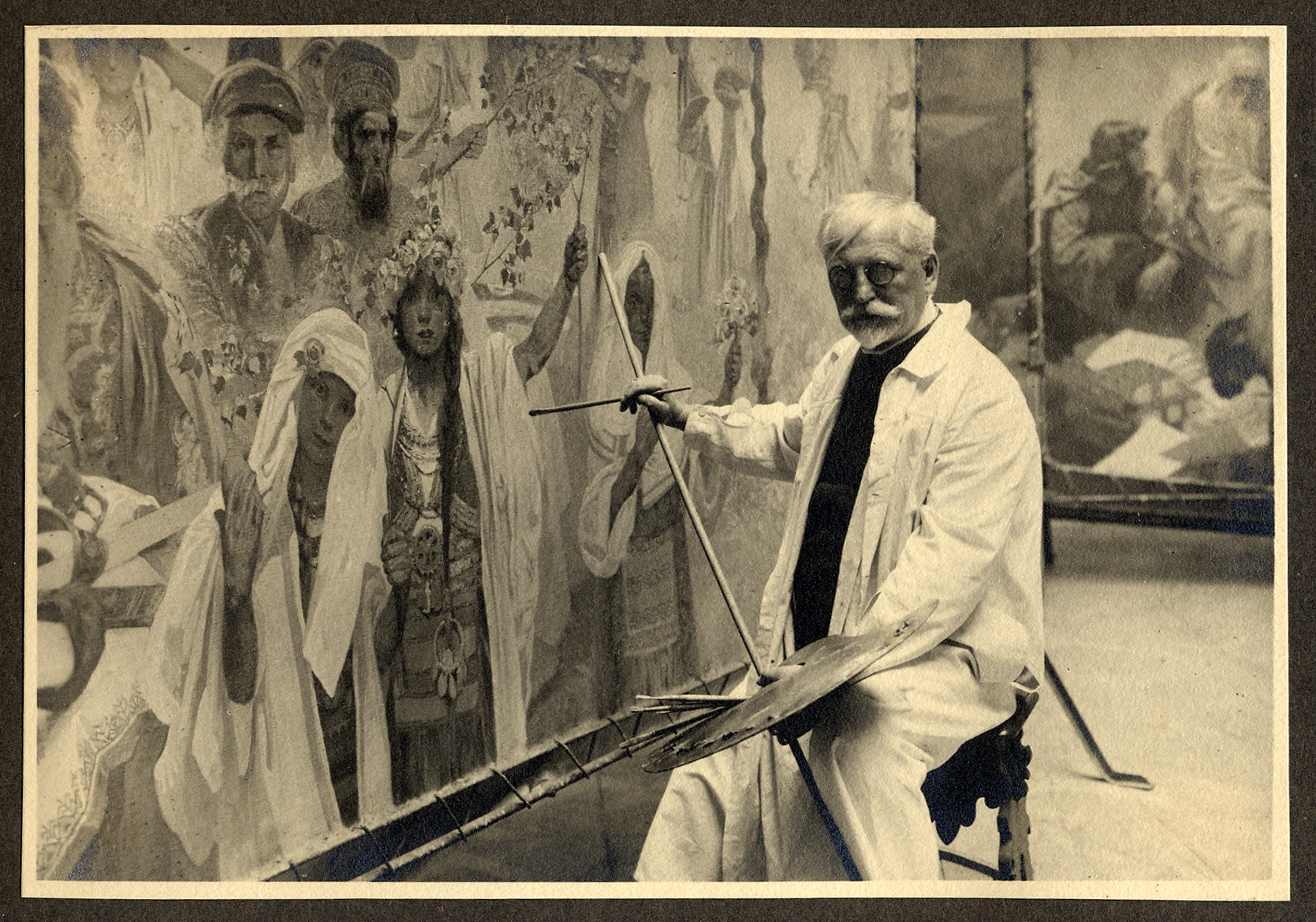 Creation of the Slav Epic
Mucha created the Slav Epic, the cycle of twenty monumental canvases, in 1910–1928.
He intended for the Slav Epic to incite a spiritual renaissance and provide an educational example for all Slavs. By learning about their past, Slavs would ensure creating a brighter future. Alfons Mucha had to rent an equally large space to work on enormous canvases. He chose the Zbiroh castle in western Bohemia. He lived there with his family until 1928. Both of his children, Jaroslava and Jiří, spent their childhood there. They also helped their father with his work and modeled for the canvases.
Careful preparation
He began work on the Slav Epic at the age of fifty. He devoted a total of eighteen years to its creation. Thorough preparation was an essential part of his creative process. Mucha read numerous books on the topic, among them works of František Palacký, who was considered the Father of the Nation. He conferred with the then experts, notably Ernest Denise, a French expert on Slavic history, and Nikodim P. Kondakov, a Russian expert on Byzantine art. Mucha went on study trips to Croatia, Bulgaria, Poland, Greece, and Russia. He brought back drawings and photographs from his travels, which he used as a reference while working. For his cycle, he chose twenty key events that, according to him, influenced the course of Slavs' history.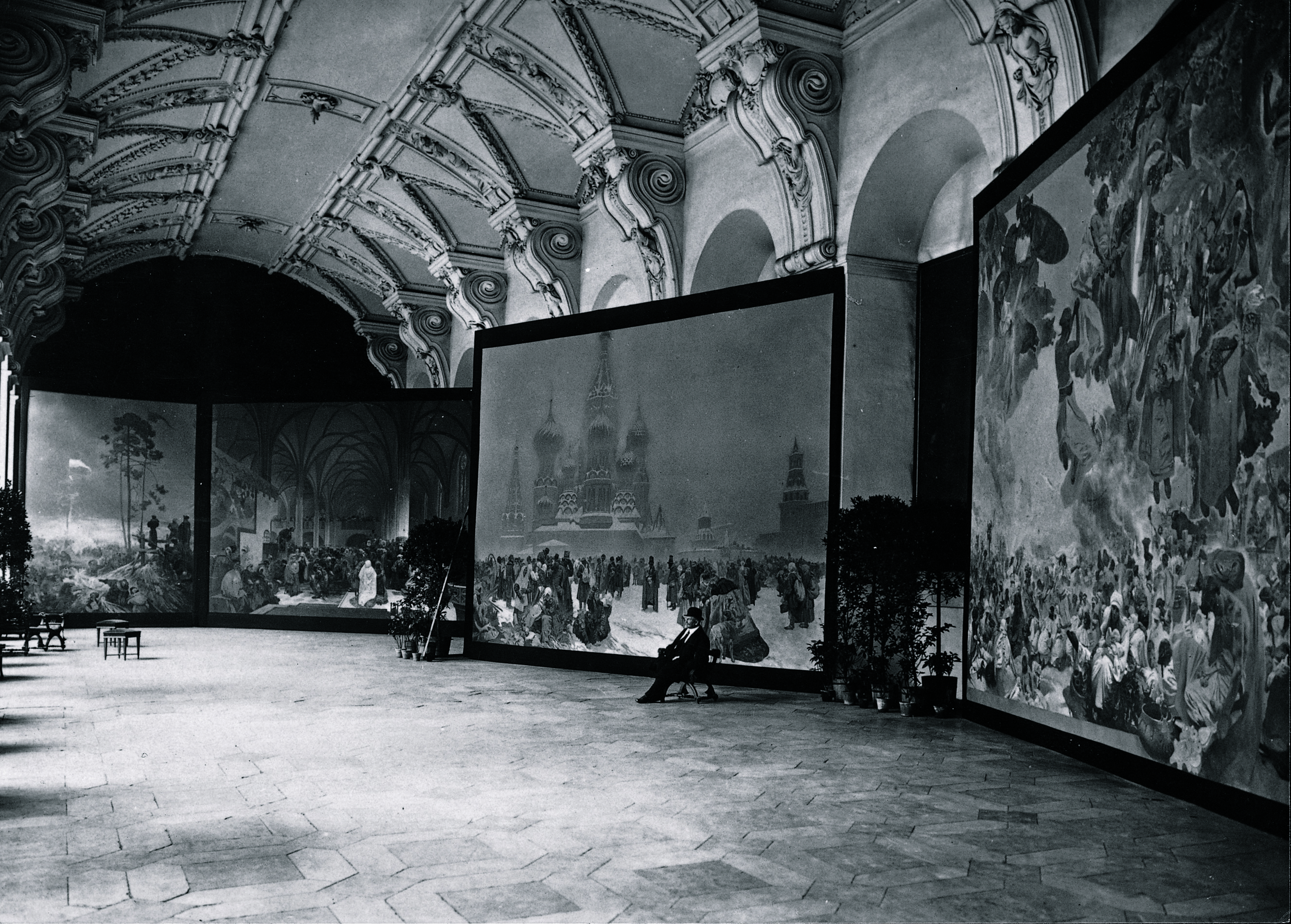 The journey of the Slav Epic to Moravský Krumlov
Alfons Mucha wanted to give the finished Epic to the Czech nation as a gift. However, as the nation cannot be considered an institution, he decided to donate the Slav Epic to the city of Prague.
The completed Slav Epic was publicly displayed for the first time in 1928 in Prague's trade fair center Veletržní palác, then in Brno. Before that, several finished canvases were exhibited in Prague's Klementinum in 1919. In 1920, some canvases were displayed in Chicago and New York.
The paintings were stored in the Slatiňany castle during the Second World War. During the 1950s, the canvases were transferred to the castle in Moravský Krumlov. They were exhibited here from 1963 to 2011. For a few years, the Epic could be seen again in Prague's Veletržní palác. In 2017, the Epic traveled to Japan, where the people in Tokyo could marvel at the Czech painter's work. The exhibition was an incredible success. In the summer of 2021, the Slav Epic returned to Moravský Krumlov after ten years as a loan from Prague City Gallery. 
Photo: Mucha Trust